INTERVIEW: Dotyk slov
Prečo práve dotyk slov a môžeš nám prezradiť,
kto sa za tým skrýva?
Dotyk slov mi prišiel ako originálny názov, ktorý vystihuje tento profil.
Proste ten pocit, keď si niečo prečítaš a dotkne sa ťa to.
Či už v dobrom, či v zlom, ja len chcem, aby ľudia vedeli, že v tom nie sú sami. A kto sa za týmto profilom skrýva, no som baba, mám 23 rokov, ale svoju "instagramovú totožnosť" si zatiaľ nechám pre seba.
Myslíš si, že sa tvoje slová dotýkajú iných duší?
Myslím si, že moje slová sa dotýkajú ľudí, ktorí sa v tých slovách nájdu, a zároveň zistia, že nie sú sami, ktorí sa tak cítia. Zároveň som rada, že mnoho ľudí zdieľa moje názory a moje myšlienky. Človek aspoň vidí, že ľudia predsa nie sú až tak nepriateľskí voči sebe.
Čomu sa venuješ v offline svete?
Študujem prekladateľstvo, rada cestujem a spoznávam nové miesta a naozaj milujem jedlo, varenie, navštevovanie reštaurácií, proste celé gastro ako také.
Ktoré slová sa, naopak, dotknú teba?
Slová, ktoré sa ma vždy dotknú, sú slová, ktoré pochádzajú z úst mojich najbližších. Pretože iba najbližší človek ti dokáže naozaj ublížiť.
Čo alebo kto ťa inšpiruje pri tvorbe?
Keďže príliš veľa premýšľam, čo by som samozrejme nemala robiť, lietajú mi hlavou rôzne myšlienky, či už z minulosti, čo som niekedy cítila, alebo aktuálne pocity, emócie. Snažím sa ich potom napísať na papier, a následne spraviť z toho sketch, keď sa mi páči, tak to zverejním vždy na môj účet @dotykslov
Niekedy sa inšpirujem myšlienkami z Tumblr, vždy si ich upravujem podľa seba, aj keď niektoré citáty, ktoré zverejňujem sú dosť klišé, no sú to slová, s ktorými súcitím.
Plánuješ okrem merchu spísať aj vlastnú zbierku/knihu?
Plánujem takú malú knižočku s najpopulárnejšími citátmi, no naozaj neviem, kedy sa k tomu dostanem, momentálne som v bakalárskom ročníku, čiže mám toho naozaj veľa. Ale verím, že čoskoro.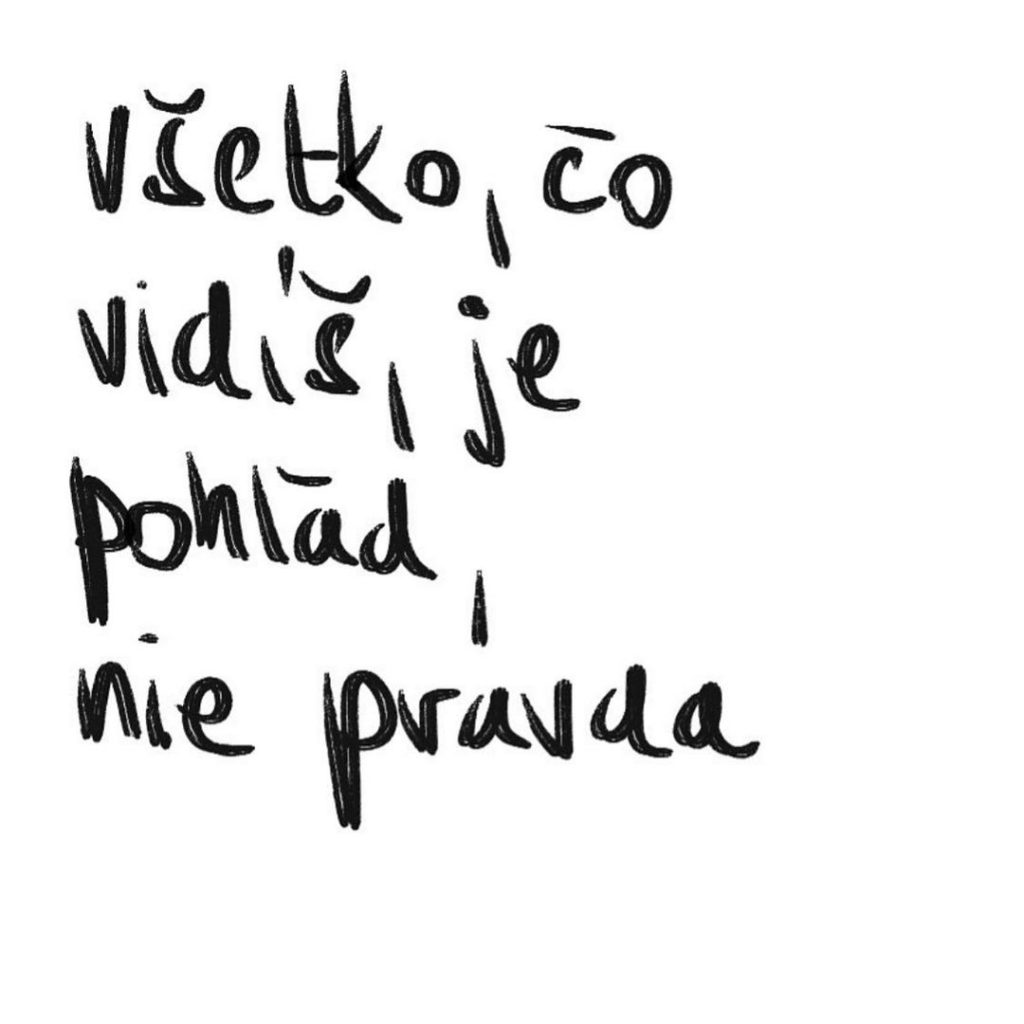 Slová vs skutky?
Určite aj slová potešia, ale treba ich spečatiť aj skutkami. Človek vždy rád počuje, keď mu niekto povie, že ho má rád. No občas niekto používa úplne iné slová, ktoré nesedia s jeho skutkami. A to nie je celkom v poriadku.